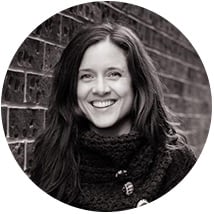 Jo-Anne McArthur
"I've dreamt of doing a project about women in animal advocacy for quite a few years. The list of inspiring women has been taped to my wall, with names added monthly. A big part of the reason I'm an activist is that I had women to look up to. I saw Jane Goodall living this extraordinary life, creating change, and I thought 'I want to do that, too.' The Unbound Project is my gift to the world, and to the ever-growing animal rights movement. May it inspire many, and uplift and celebrate the work of all the women in the project. Ultimately, the goal is to move people to be change-makers for animals, too."
Jo-Anne McArthur is an award-winning photojournalist, author, activist and educator who has been documenting the plight of animals around the globe for over fifteen years. She is the founder of We Animals, an internationally celebrated archive. Over one hundred animal organizations have benefited from her photography, many of which continue to work closely with Jo-Anne on stories, investigations, campaigns and humane education.
Jo-Anne is the subject of Canadian film maker Liz Marshall's acclaimed documentary The Ghosts in Our Machine, and her first book, also entitled We Animals, was published by Lantern Books in 2013. Her work has been featured in many books and publications such as National Geographic, Elle, DAYS Japan, Helsingin Sanomat, Photolife, PDN Online, The Huffington Post, Alternatives Journal, and Canadian Dimension. Recent awards and accolades include the Institute for Critical Animal Studies Media Award; one of CBC's Top 50 Champions of Change; and HuffPost WOMEN's "Top 10 Women trying to change the world." Her work has been granted funding by organizations such at the Culture and Animals Foundation, LUSH cosmetics and The Pollination Project. Her forthcoming book, Captive, will be published by Lantern Books in 2017.
---
Keri Cronin
"As someone interested in both activism and history, I am absolutely fascinated by the number of women who have worked so hard to make the world a better place for animals. Many people are surprised to learn that animal advocacy has such a long and rich history, and I am excited to share the stories of the many women who stood up and demanded change, each in their own way. In some cases, these women were fighting for animals even before they had the right to vote! Some of these women were recognized as 'leaders' in their own day, but many others toiled away with little recognition. I have been working for a few years to piece together their stories, and it is my sincere hope that the Unbound Project will generate even more information about the brave and inspiring women who fought for animals in previous generations."
Dr. Keri Cronin is an Associate Professor in the Department of Visual Arts at Brock University (St. Catharines, Ontario, Canada). She is also a Faculty Affiliate in Brock's Social Justice & Equity Studies graduate program and a founding member of the Social Justice Research Institute at Brock. She is the author of Manufacturing National Park Nature: Photography, Ecology, and the Wilderness Industry of Jasper (UBC Press, 2011) and the co-editor (with Kirsty Robertson) of Imagining Resistance: Visual Culture and Activism in Canada (Wilfrid Laurier University Press, 2011). Her current research explores the ways in which late 19th- and early 20th-century animal advocacy groups used visual culture in their campaigns. In the summer of 2012 she curated an exhibition called "Be Kind: The Visual History of Humane Education" for the National Museum of Animals & Society (NMAS), and is currently serving as the Chair of the Advisory Council for NMAS. In addition to publishing in academic venues, she has also written several columns on the role of art in animal advocacy for Our Hen House.
---
Kelly Guerin
Kelly Guerin is a documentary filmmaker for animal rights based out of Denver, Colorado. In 2014, she graduated with Latin honorific degrees from the University of Colorado for her research on Western cultural rejections of vegan philosophy. She works independently and alongside non-profits to create films exploring humanity's relationship with non-human animals.
---
Sayara Thurston
Sayara Thurston is a Montreal-based animal advocate and writer. Before joining the Unbound and We Animals teams, she worked as the farm animals campaign manager with Humane Society International/Canada. Her articles on farm animal protection have been published in The Toronto Star, The Montreal Gazette, The Hill Times, The Vancouver Observer, The Huffington Post, and more. Originally from Australia, Sayara holds a Master of Peace and Conflict Studies from the University of Sydney.
---
Corinne Benedict
Corinne Benedict is a writer based in Virginia. As a journalist, she reported for The Merced (Calif.) Sun-Star, The Virginian-Pilot, and The Washington Post, mostly covering the military. A native of California, she has worked in the Middle East, Africa and, Asia.
---
Brittany Brooks
Brittany Brooks is a multidisciplinary artist based in St. Catharines, ON and a recent graduate of Brock University's Studio Art program. Her practice includes, but is not limited to; visual art, performance and music. Brittany has participated in residencies at Spark Box Studios, White Rabbit Arts, and The Green Belt Gallery which cultivated her solo exhibition Rutabager and her original hand made layered projection show The Fireside Book of Fictitious Folk Songs. Her band Creature Speak released a full length album Shadow Songs, which has since drawn international praise from Bandcamp, Bitch-Media, Exclaim, Folk Radio UK and more. She is an active member of the St. Catharines arts and cultural community and a Jr. Programmer for the In the Soil Arts Festival.
---
Katie Mazi
Katie Mazi is a recent graduate of Brock University where she majored in Visual Arts and minoring in Critical Animal Studies. Her combined interests made her the perfect candidate for a 2015 research assistant position with Professor Keri Cronin.
---