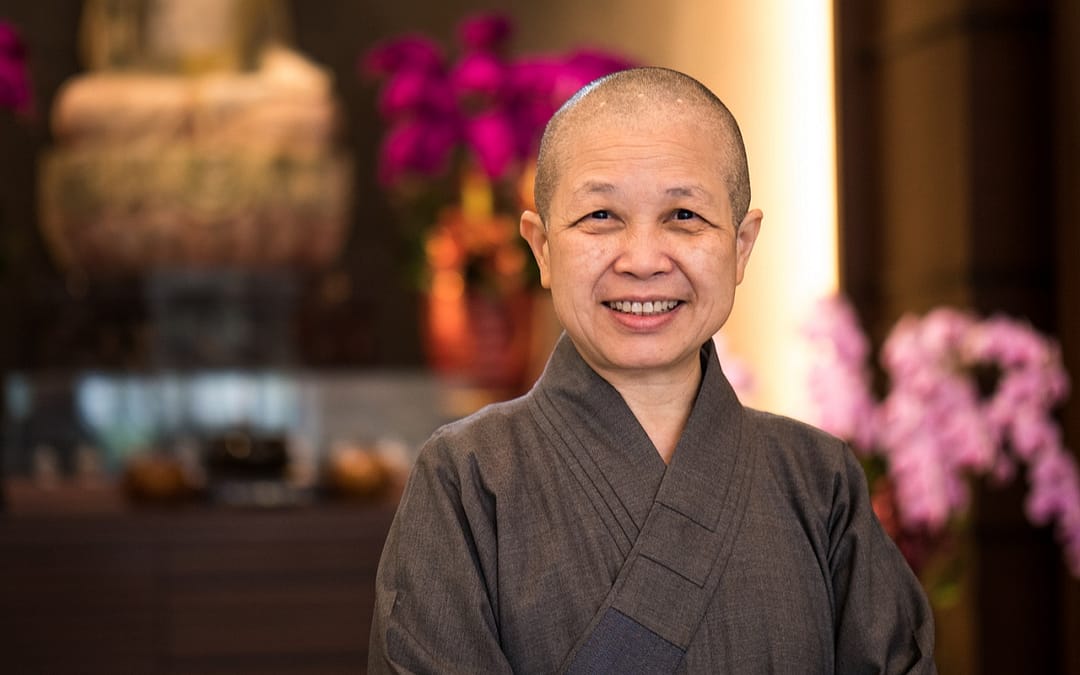 "We must always check with ourselves to know if we are, in fact, being conquered by our fear."
In their capacity to suffer, Buddhist nun Shih Chao-hwei sees little difference between humans and animals.
"Buddha could not bear to see sentient beings suffer," she notes.
So when she began learning about a new craze in Taiwan, a brutal "sport" called fish hooking, Ven. Chao-hwei, who had given up meat years before, was agonized.
"I thought fishing was cruel enough," she says. "Fish hooking is an activity that does not use bait but instead deploys double or triple hooks to hook fish and tear them out of pools. It's not hard to imagine that fish were panicked and tried to avoid these hooks."
Starting with an article headlined "Nightmare of Aquatic Beings" that she submitted to a Taiwanese newspaper, Ven. Chao-hwei began advocating against the cruelty. It eventually worked, with Taiwan's then-premier demanding a fish hooking ban.
That was in 1992. Ven. Chao-hwei has been working to protect animals ever since, on top of her impressive efforts on other social justice causes, namely gender equality and LGBT rights. In 2012, Ven. Chao-hwei attracted international attention when she presided over Taiwan's first same-sex Buddhist wedding. On behalf of animals, she has played a key role in many important legislative victories, including a ban on horse gambling across Taiwan and passage of the island's Wildlife Conservation Act and Animal Protection Act.
While many of her colleagues and fellow Buddhists in Taiwan and beyond have shied away from such activism, Ven. Chao-hwei views it as essential to her religious practice.
"Many people in religious communities are reluctant to give voice to their views on controversial topics. They fear that to involve themselves, to speak up about them, or even just to think about them, makes them lose their peace of mind. This seems to conflict with their initial purpose of practicing a religion," Ven. Chao-hwei says in Mandarin.
"Nevertheless, how would you expect to gain true peace if you don't do this? The path of speaking out is not necessarily more difficult. For those who remain silent, observe them in the meditation hall and you will often see that they are under extreme torment and affliction. I often encourage people not to worry about the breakdown of superficial harmony and serenity. When you take action, slowly you will discover deeper, greater, more profound and more powerful serenity and peace in your heart."
Ven. Chao-hwei was born in Myanmar in 1957. She was eight when her family moved to Taiwan and in her early 20s when she decided to become a Buddhist nun. She regards Buddhism as more of a profound philosophy than a religion, with its emphasis on experience over pure faith, and remembers being intrigued as soon as she began learning about Buddhism.
"Critical thinking and the freedom that arises from democracy are highly valued in my heart," Ven. Chao-hwei says. "The notion of this superior power, a single God to whom we must be submissive, for whose salvation we wait, and at whose hands we will endure all manner of cruelty if we are not obedient to him—this is all quite challenging to my rebellious thinking."
Today, Ven. Chao-hwei serves as both a professor and as dean of the Department of Religion and Culture at Hsuan-Tzang University. She was the university's head of Humanities until stepping down to make more time for her research, which has focused on Buddhist philosophy and ethics. She has published more than two dozen books and many more research papers.
"When participating in social movements, I have supported my viewpoint with moral studies and ethical discourse," she says. "The basis for my position on these topics lies in my study of Buddhist ethics."
Her work to end fish hooking turned out to be a catalyst. The next year, with a group of friends and colleagues, she founded an organization called Life Conservationist Association to take on other animal protection causes.
"Many people began to pass information of animals' plight to me. Thousands, millions, billions of economically valuable animals such as pigs and chickens are slaughtered all the time. One person alone cannot save all of them," Ven. Chao-hwei says. "Their lives have to be saved through a variety of different methods, not solely through media exposure as in the case of fish hooking. I realized to do this meant to step on a long, challenging road of social movements. Therefore, I gathered friends with similar ideas and aspirations from many different communities, including entrepreneurs and religious people of diverse ideological backgrounds—pastors, priests, monastics."
Like those who choose to avoid the discomforts of activism, Ven. Chao-hwei says, she fears the negative consequences her work can bring. But she strives to overcome fear, which she calls "the foremost enemy in one's life."
"I am a normal person, so I am not free from fear," she says. "I might be insulted, slandered or excluded. However, should I allow myself to be stopped by these possibilities, or conquered by these circumstances? We must always check with ourselves to know if we are, in fact, being conquered by our fear."
One emotion she doesn't contend with, she says, is frustration.
"Someone once asked me if I ever feel frustrated with all these movements. It seems that frustration has never occurred to me. The reason is because these movements are like wars, one after another. It is normal that sometimes we win and sometimes we don't. If your focus is solely on victory and loss, when you win, you are overjoyed, and when you lose, you are frustrated."
Overcoming this to become the most effective activist one can is "a different kind of practice" in Buddhism, Ven. Chao-hwei says.
"Practice means to keep transcending beyond self to eventually be liberated from pain. Ultimately, the so-called Enlightened Ones are people who have finally realized self as an illusion. If we can regard these matters from this perspective, it is actually a decent path of practice. Rather than spending a great deal of time in the meditation hall, you are dealing with circumstances that change all the time, and you should be ready at any moment for the next attack. There is no buffer available, things can happen at any time, like a huge wave suddenly arriving. In this case, purity of mind matters immensely. If your mind spends too much time looking out for yourself, or indulging in self-pity, self-love or self-blame, then you will be filled with emotions high and low, which is not a state that benefits us much in our lives.
"I believe what is really helpful to our mind is that we are fully focused on doing the work—in this case, the movement—itself. You concentrate entirely on the work and only seek to improve the chances of its success. When you evaluate the gains and losses of this process, it involves consideration of how this movement relates to all beings, instead of only the gains and losses of oneself. This is another kind of training for selflessness.
"In my opinion, it doesn't matter whether it is the animal protection movement or the gender equality movement. They are both good means of practice."
Interview, photos, and video by Kelly Guerin. Story by Corinne Benedict.