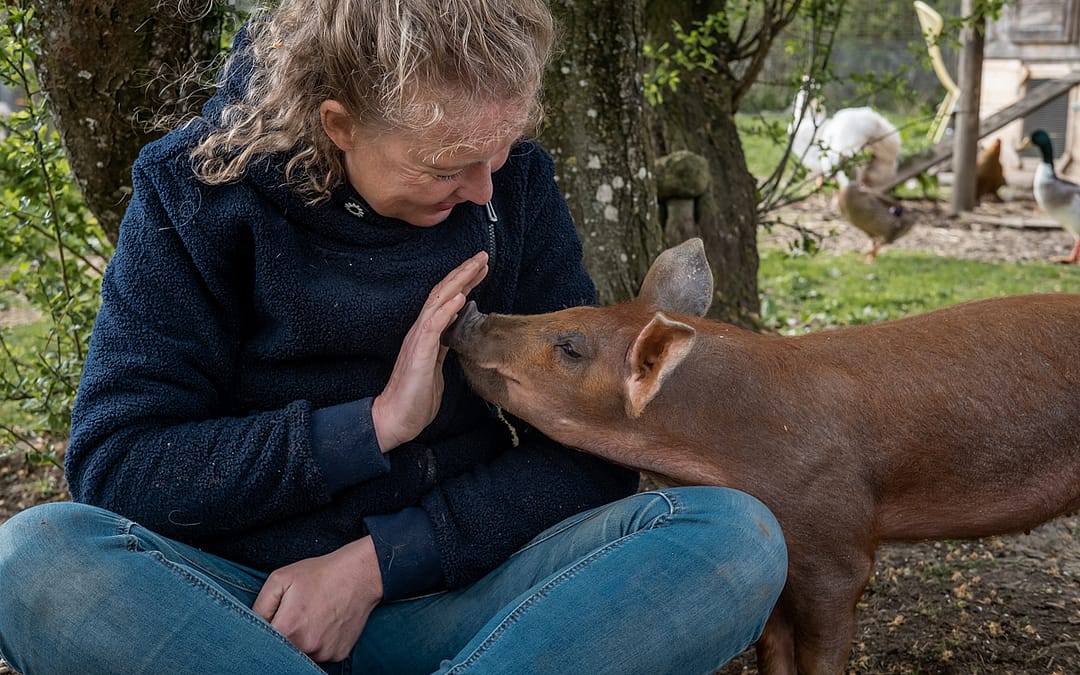 "I cannot change the whole world, but I can change the world for a whole lot of living beings."
Directed by Thomas Machowicz and Sabina Diethelm
Switzerland is proud of its image as a rural country with mountains, alpine pastures and traditional family farms. Switzerland Tourism likes to advertise with cows grazing on beautiful mountain meadows, and Swiss milk chocolate and cheese are world famous. In 2021, 48,864 farms were registered in Switzerland along with 1.5 million cattle and 1.4 million pigs. One woman who has recognised the animal suffering behind these pretty scenes is Sarah Heiligtag: she has identified how farming animals for food harms the entire ecosystem.
As the founder of the "Transfarmation" concept, Sarah works to fundamentally change the system, not to simply oppose agriculture or to close individual farms. She wants a plant-based, nonviolent, more environmentally sustainable agriculture, not one that relies on farmed animals. Together with her husband, Sarah acquired a farm in Hinteregg near Zurich and transformed it into a vegan farm and sanctuary in 2013. As of August 2022, more than 200 rescued pigs, goats, sheep, horses, donkeys, chickens, turkeys, ducks, cats, and dogs have found a new, peaceful home here.
Soon after Sarah created her "Lebenshof" (this German term coined by Sarah Heiligtag literally translates to "farm of life"), a farmer who had heard about it contacted Sarah, seeking to change his farm, too, because he no longer wanted to exploit and kill his animals. Sarah helped him to transform his farm into a successfully functioning, violence-free, vegan farm. This attracted media attention and other farmers expressed interest in Sarah's farming methods. As of August 2022, Sarah has helped more than 100 farmers transform into vegan farms, and she is currently working with more who are in the process of changing.
While on assignment for We Animals Media and the Unbound Project, Thomas Machowicz and Sabina Diethelm visited Sarah on her "Lebenshof" in April 2022 and accompanied her to different farms all over Switzerland that she is working with and who are in various phases of their "transfarmations".