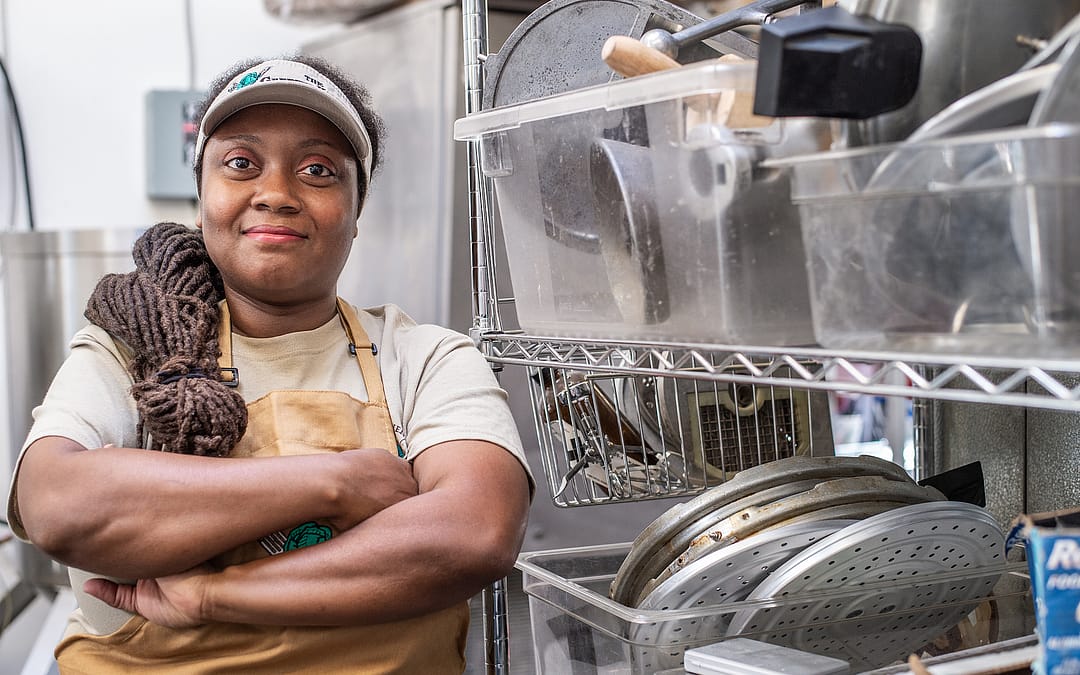 "I'm so glad that I'm such a stubborn person and nobody can tell me what to do…. If I had listened, I never would have seen how much people want this change." ~ Brenda Sanders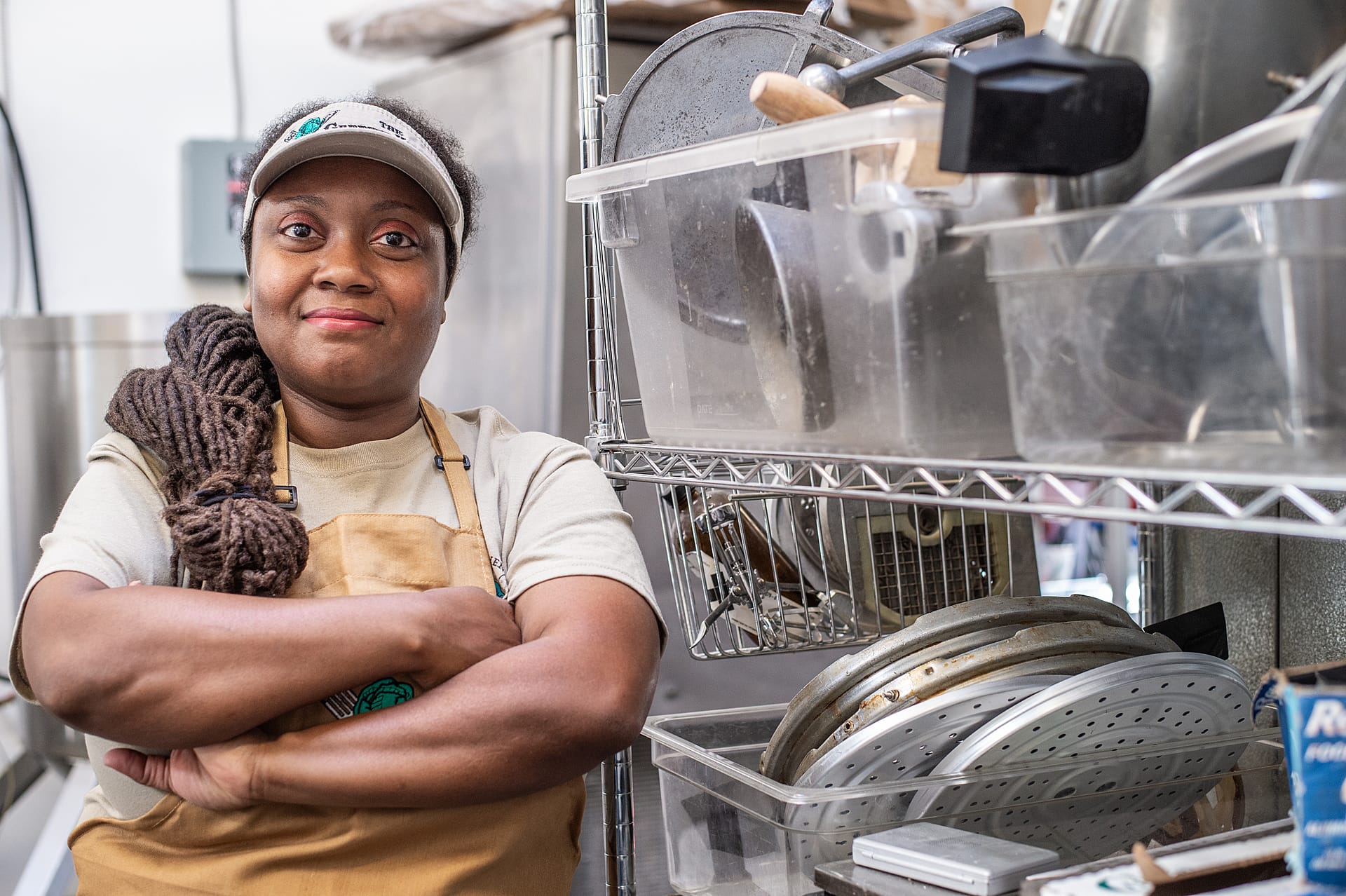 Growing up in the Baltimore housing projects, Brenda Sanders didn't know what real food was. With no local grocery store nearby, her single mother instead bought food from a converted school bus.
"I feel weird even calling it food," she admits. "It was the most processed, most unhealthy, salty, sugary, fatty animal products that you could think of— the cheapest crap. That was what was being trucked in and dumped into our community, because that's all that we were worth. So I just grew up thinking that's what food was."
Years later, living in the low-income neighborhood of Penn-North, where the closest grocery store was two bus rides away, she stumbled across an eye-opening community meeting: University students were presenting a recent study that had compared the health outcomes of two neighborhoods in Baltimore—an affluent white community and a low-income black community. The study revealed a 20-year difference in life expectancy, but surprisingly the main factor was not stress, nor income, but diet.
Sanders had been vegan for ten years and realized that she had knowledge to share about healthy eating.
"I felt like I could make a difference. It was audacious!"
She emptied her savings account, bought an assortment of cooking equipment, and started Better Health, Better Life. She knocked on the doors of churches and community centers, and anywhere that would have her.
She was met with disbelief and told time and again that these communities did not care about their health, and they would not eat vegan food. But if Sanders is anything, she is determined.
"I'm so glad that I'm such a stubborn person and nobody can tell me what to do!," she says now, laughing. "If I had listened, I never would have seen how much people want this change."
She ran cooking demonstrations and shared all she had learned about the health benefits of a vegan diet, sometimes to one person, sometimes a hundred. Wherever she went, people were eager to learn, and parents wanted better choices for their children. They left armed with recipes and printouts.
In Penn-North, Sanders and some friends set about transforming a vacant lot into a community garden. It was a labour of love. They moved mattresses, bed frames, and old tires, and Sanders contracted tetanus in the process. Soon local children became curious, and came out to help weed and build garden beds. They planted kale and collard greens, cucumbers and tomatoes. As the lot transformed, wildlife came to the garden—bluebirds, cardinals, praying mantis, and squirrels—animals that the kids had never seen before. The elders followed and soon it was a thriving community.
Unbeknownst to them, however, the lot had been tagged for development. City officials began harassing the community, citing obscure regulations, and after two seasons, the garden was closed.
Sanders knows it was political.
"These cities have a plan for bringing in higher income folks and doing the whole urban development thing, and building this project that brings the community of low-income people together around a shared vision disrupts that, and they will find ways to deter you."
But Sanders would not be deterred. It was time to go bigger.
She reached out to fellow vegan and restaurateur, Naijha Wright-Brown of The Land of Kush, and together they dreamed up a free vegan festival that would connect people interested in veganism to vendors, speakers, and educational resources.
Over 1,200 people came to the first Vegan Soulfest in 2014.
"It was way more people than were supposed to be in that building!" she confides. By 2019, the event attracted over 14,000 attendees. "It just took on this momentum— it was like a freight train."
Sanders was helping bring healthy eating choices to Baltimore's black community, but she still saw veganism as a health issue, not an animal one. Then one day while shopping for shoes, she noticed they were made from kangaroo leather, and something clicked.
She began searching online and discovered an animal rights movement she hadn't known existed, especially in Baltimore. Bolstered by this newfound network, she moved from knocking on doors to establishing a dedicated vegan community center called Thrive Baltimore. Here, she could run regular classes and expand her offerings to include a four-week vegan education program, film screenings, guest chef cooking demos, and cooking competitions.
People kept coming back, they brought their friends, and it just kept growing—she estimates they've reached tens of thousands.
"The events at Thrive got so big, we were busting out of the seams," she says, then smiles. "Baltimore is different now because of the work we were able to do out of Thrive."
The more she worked, the more she realized it wasn't just about health.
"The mission was so much bigger, and the issues were so much more expansive than these health disparities," she says. "Now we're talking about climate, and about animal abuse, and about environmental racism."
In answer, she founded the Afro-Vegan Society, a project rooted at the intersection of human health, animal rights, and social justice. Their annual Veguary program, held during the month of February to encourage people to try vegan living, has helped thousands transition to a vegan lifestyle.
Baltimore was better informed than ever about the benefits of veganism, but access to vegan foods there remained a problem: with access. Vegan foods either weren't available in the community, or they were too expensive.
Sanders describes The Greener Kitchen as a work of magic.
"It was the wackiest idea, out of all the things that I set out to do… Affordable, accessible, vegan convenience food doesn't exist, and I thought 'well, it should.'"
With her characteristic can-do attitude, she gathered a crew of chefs and producers to create a line of vegan foods that were just that.
While making healthy, real food that is as cheap as foods filled with chemicals hasn't been easy, she has proved it is possible. The line of plant-based meats, sauces, and cheeses, all quick and easy to prepare at home, are made in-house to create employment opportunities. The key is keeping it local. Although they could grow the business and stock products at supermarkets, Sanders knows this would price people out: "Then it'll be only for people who can afford to shop at Whole Foods, and people in the hood won't have access to it again."
Both Thrive Baltimore and The Greener Kitchen were forced to close during the pandemic. Not one to have her plate empty though, Sanders used the time to launch the Food & Justice podcast for the Defund Big Meat campaign.
"What I want to do with this show," she explains, "is to expose the filthy underbelly of our food system and for people to learn everything they didn't know so that we can start to make more informed choices and choices that are in our best interest."

"My next goal is to reach millions," Sanders says before breaking into a smile.
And if anyone is capable of it, she is.
Written by Anna Mackiewicz
Photos by Jo-Anne McArthur