"I always say that I lead with the carrot and
not the stick, quite literally."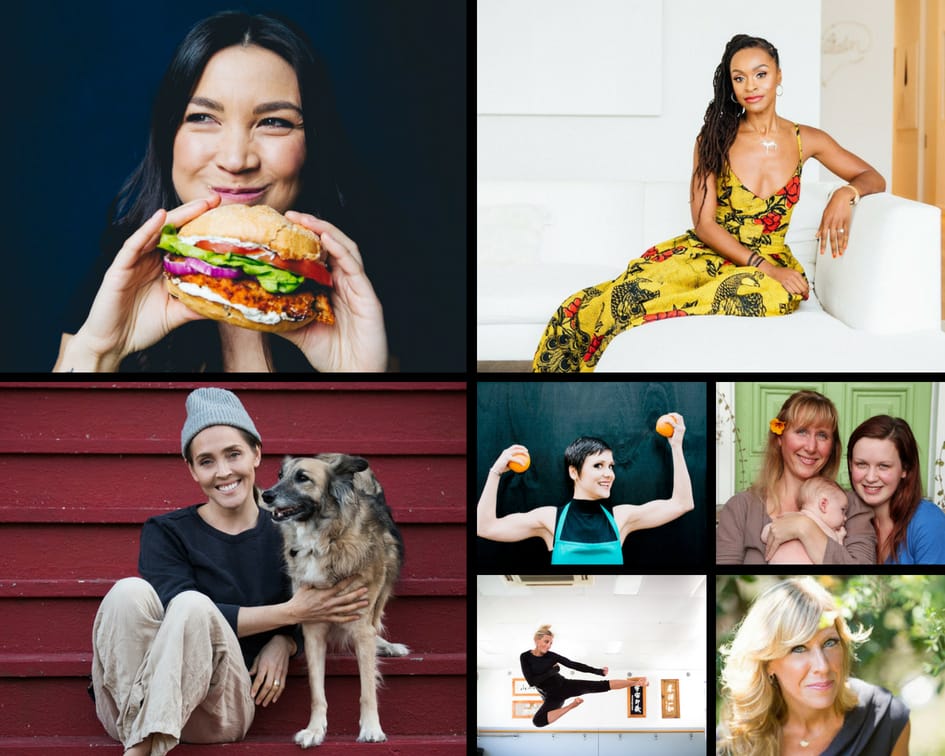 In many ways, the food industry is still a man's world. But while hatted restaurants and celebrity chef titles are dominated by men, it's often women who are changing the game when it comes to food innovation and accessibility.
Veganism is the fastest-growing food movement, and it's more than just a trend. Plant-based eating is here to stay, and women are leading the charge. Through innovative and delicious vegan cooking, baking, cheese-making, plant-based meats and nutritional education, women are transforming the way we think about food, our health, and our relationships with other animals.
With creativity and purpose, women are setting the agenda for the plant-based food movement, and, with their out-of-this-world social media smarts, are bringing compassionate eating into kitchens everywhere. In their hands, food becomes a means of powerful activism, inspiring people around the world to rethink their food choices and habits, and changing the world for animals in the process.
Meet eight women changing the world for animals through food:

Lauren Toyota/Hot For Food
Hot For Food has been cooking up a storm around the world. The woman behind the movement, Lauren Toyota, loves creating vegan versions of classic comfort foods – think mac and cheese, saucy burgers, and even cheesecake! Toyota is bringing veganism into the mainstream and proving plant-based food is far from boring.
I always say just do it. Whatever dream or idea you have, just start. Take a step in the direction of your dreams. There's room for everyone and we need as many advocates as we can get. So stop thinking about it and just take action!
Learn more about Toyota's work and follow on her Facebook and Instagram.

Anna Pippus/Easy Animal-Free
Anna Pippus of Instagram account @easyanimalfree is all about keeping things simple – no complicated recipes or hours of prepping; just home-cooked meals thrown together using what's on hand and what's in season. Rather than another book of complicated recipes, Pippus saw a need for people to know how to throw a quick meal together, use leftovers and in-season produce, and have a sense of foods that go well together. She uses social media to share her personal recipes and lifestyle tips, and shares stories from her own life raising a vegan family.
It's hard to underestimate the role of food in farmed animal advocacy. I believe that our movement will be won on food first, not ethics. It's starting to happen now! My goal is to teach people how to feed themselves and their families — if they have them — simple and delicious plant-based food!
Learn more about Pippus' work and follow on her Facebook and Instagram.

Colleen Patrick-Goudreau/Joyful Vegan
Twenty years ago, Colleen Patrick-Goudreau was a young activist leafleting and organising animal rights demonstrations. Today, she is the award-winning author of several books, host of two podcasts, and is a thought leader on the culinary, social, ethical, and practical aspects of living compassionately and healthfully.
I believe that when we change the way we think about and perceive other animals, we change the way we treat them.
Learn more about Patrick-Goudreau's work and follow her on Facebook and Instagram.

Day Radley/Vegan Chef Day
On top of her work as a private chef, Day Radley is an educator, spreading her love of healthy vegan eating by teaching professional chefs plant-based food and presenting cooking demonstrations around the United Kingdom. Her food is the perfect combination of nutritious and delicious, teaching that compassionate eating can be for everyone.
I always say that I lead with the carrot and not the stick, quite literally. This approach shifts the focus from a negative where you talk about animal abuse. Many people can shut down with the discussion of what is really happening to animals in farming. But everyone is open to seeing great food pictures and being inspired in the kitchen.
Learn more about Radley's work and follow her on Facebook and Instagram.

Tammy Fry/Fry's Family Foods + Seed Blog
Growing up in a family of vegetarians in South Africa, Tammy Fry was surrounded by the plant-based meats of The Fry Family Food Co., now known around the world for its home-style meat alternatives. With a passion for empowering others to live happier, more energetic lifestyles, Fry shares recipes, lifestyle tips and plant-based advocacy ideas through her Seed blog and workshops.
The question is not 'can you make a difference?' You already do. It's just a matter of what kind of difference you choose to make. Go out there and make positive change happen!
Learn more about Fry's work and follow her on Facebook and Instagram.

Lynda Turner/Fauxmagerie Zengarry
As a scientist, Lynda Turner had always been interested in health and how lifestyle choices affect our health. After switching to a vegan diet eight years ago, Turner realized that there was a need for more convenient vegan options and started experimenting with making plant-based cheeses. After encouragement from her (very non-vegan) friends and family, she founded Fauxmagerie Zengarry to offer satisfying non-dairy cheese options and she hasn't looked back since!
In an industry that is brand new, there is no recipe to follow. I have had to figure things out as I went along… If people have more amazing vegan options that are easy, convenient and readily available, my hope is that more people will make more educated and compassionate dietary choices on a daily basis. Every choice counts.
Learn more about Turner's work and follow her on Facebook and Instagram.

Erin Ireland/To Die For Fine Foods 
In 2011, Erin founded her Vancouver-based bakery wholesaler, To Die For Fine Foods, and turned the whole company vegan soon after. Today, Vancouver vegans don't need to go out of their way to find to die for baked goods because they're in just about every neighbourhood, and non-vegans are discovering in droves that modern vegan food is every bit as delicious as its traditional counterparts. Ireland also organizes community events like book clubs and movie screenings to help people learn about what is happening to animals and how a plant-based, compassionate lifestyle can make a difference.
Every day, I wake up and think about the countless sentient animals who are being used by humans unnecessarily, against their will. My heart bleeds for these incredible creatures who are intelligent and intuitive in ways we can't possibly understand. I dream of peace on Earth, which won't be achieved until our world is vegan.
Learn more about Ireland's work and follow her on Facebook and Instagram.

Latham Thomas/Glow Maven
Latham Thomas is a sought-after wellness guru and doula, helping women to have the best pregnancy, birth, and mothering experience possible. She was named one of Oprah Winfrey's Super Soul 100, and is the founder of  Mama Glow, which offers inspiration, education, and holistic services for expectant and new mamas. She teaches self-care practices to help women live their best, plant-based lives.
Learn more about Thomas' work and follow her on Facebook and Instagram.
---
Text by Anna Mackiewicz.