"I wanted a permanent sustainable lifestyle, not a quick fix."
I have never met Steph Yu, but it feels like I have. Reading her blog, I feel as though we're friends. She divulges her passion for life and pours out the wisdom that inspires so many to prioritize their personal health and happiness and choose a vegan diet.
Yu has mass appeal with almost 200,000 Instagram followers, built by sharing her relatable story with rawness and authenticity.
A Chinese-Canadian writer, podcaster, and video-blogger from Vancouver, Yu is almost overwhelmingly positive, filled with appreciation and enthusiasm for life. She's also the epitome of health and, at only 22 years old, is a strong advocate for personal wellbeing. But though it's hard to imagine, it hasn't always been that way.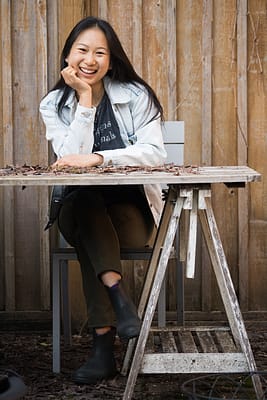 Yu's is a familiar story. Her life looked perfect from the outside. She appeared to be a high-achieving, confident and outgoing teenager from a happy family. She was on the school council and a talented dancer. But on the inside, Yu was falling apart. Her parents' marriage was hostile and violent, and Yu began to spend more and more time out of the house to avoid the toxicity of her home life.
The weight of keeping this part of her life secret became too much to bear. In an effort to exercise some control over an out-of-control life, Yu began to manage what she ate. Over time, her fear, frustrations and anger manifested in both anorexia and orthorexia – a condition characterized by an excessive preoccupation with eating healthy food.
"That summer was the loneliest time of my life," she remembers. "I felt like the world had turned against me, and everyone was trying to take me down." Looking in the mirror one day, she was shocked by what she saw: "I was an underweight, unhappy, unenthused shell of a person."
"I wanted a permanent sustainable lifestyle, not a quick fix."
Acknowledging that she needed help, Yu booked a doctor's appointment. The doctor advised that she quickly put on weight by eating fast food. But Yu had a different idea. "I was done with abusing my body and done with temporary solutions. I wanted a permanent sustainable lifestyle, not a quick fix."
Yu began researching, and discovered veganism, which would become her route to sustainable health and a happier life. Slowly but surely, she began to recover. She put on weight, and soon she was able to rediscover the happy, energetic and positive young woman she had once been.
Yu decided to channel her story – every up and down – and use it to inspire others to build the healthy lives they longed for.
Her popular YouTube channel and Instagram teaches her followers about her vegan lifestyle. Her What I Ate series details her everyday meals, showing that vegan eating can be accessible and easy for anyone.
She uses her podcast, A Beautiful Mess, to interview inspiring individuals on topics as diverse as self-love, spirituality and religion, mental health, body image and veganism. Her blog and e-book, Gaining Back Your Life, tell her own story as a source of empowerment and support for others on the search for a healthier, happier life.
"What motivates my animal advocacy is every memory of an experience I've ever had where I've been pushed to the side, silenced… It reminds me of what these beings suffer."
All the while, she aims to create change not only for humans, but for other animals as well. In fact, for Yu, our experiences are linked. "What motivates my animal advocacy is every memory of an experience I've ever had where I've been pushed to the side, silenced, taken advantage of, and helpless. It reminds me of what these beings suffer and endure every second of their existence."
It was only after discovering the benefits of veganism that Yu made the connection between her diet and animals. "It was in New Zealand when we passed a field with cows roaming," she remembers. "I went up to the fence, and they all came over. I spent over an hour talking, singing, and laughing with them all, and when I left cried big fat tears. I think that was my first personal, first-hand experience with how sentient, feeling and beautiful animals were."
Now, she sees animals and human health as intrinsically connected. Yu believes that by empowering people to live with greater care, compassion, and authenticity, she can make real change for animals. "Before I was vegan I know I wouldn't have been swayed by an argument for the animals," she says. "But I was always interested in how to be healthier holistically."
Indeed, her advocacy is having a serious impact for animals. Yu recently brought veganism to the international tourism market by working with Intrepid Travel to develop their first all-vegan food tour of India.
What is her next project? Yu plans to start her own business in the health and wellness field, helping people to live healthy and compassionate lives – for their own sake, and for that of the animals.
---
Follow Yu on Instagram, YouTube, and listen to her podcast.
Text by Anna Mackiewicz. Photos by Jo-Anne McArthur.