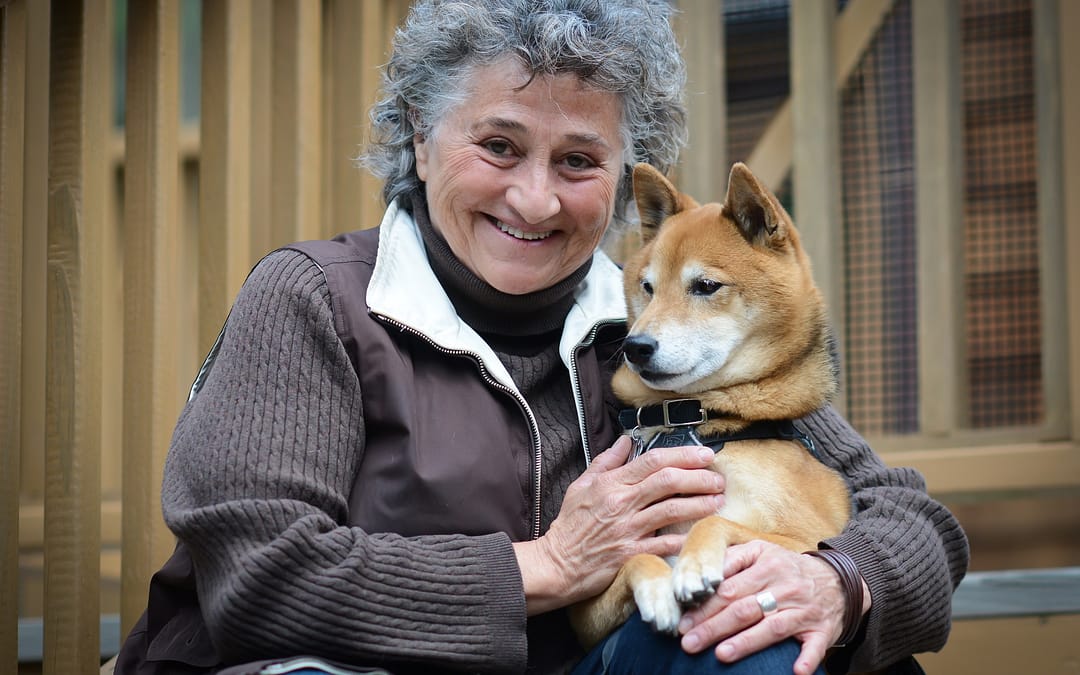 "We had all of the essential ingredients of a campaign that had to succeed."
The vast majority of drugs that test safe and effective in animals ultimately fail in humans.
The U.S. National Academy of Sciences' Institute of Medicine concluded that chimpanzee use in research isn't necessary, even though chimps are our closest genetic relatives.
Animals suffer tremendously for research that doesn't serve humans, and there are better alternatives ready for use right now.
These are among the facts that Theodora Capaldo has spent her life sharing. For decades, she has worked to end animal research, first as a board member and then, until her recent retirement, as executive director and president of the New England Anti-Vivisection Society (NEAVS), a national organization based in Boston. With Capaldo at the helm, NEAVS persuaded the first veterinary school to end "terminal surgery labs" in which dogs were killed, spearheaded the campaign that stopped chimp research in the United States, rescued hundreds of animals from lives of torture, and much more.
"When people say, 'I didn't know they used dogs in research,' I believe them," Capaldo says. "There's a lot of ignorance, because it's well hidden and because human denial is our most primitive and relied upon defense mechanism."
Since she first took up this fight in the 1980s, information – science, ironically – has been her best ally, she says.
"Science is advancing, and every day the flaws of animal use are being exposed and corrected by non-animal research methods. Animal use will end."
Capaldo remembers first learning about animal research around age eight. Her teacher kept a reading table in the classroom. One day, Capaldo picked up an anti-vivisection magazine. Flipping through its pages she came upon a photo of a dog with his head weakly hung across the bars of his wooden cage. A sign above him read: "No food. Just water." He was being used in a starvation experiment.
"I can still see his face," Capaldo recalls. "I always will. That was perhaps my big bang."
Soon she was donating her lunch money to help animals in labs.
Capaldo says she'd have probably gone to veterinary school if the science courses hadn't required live animal dissection. Instead, she became a licensed psychologist. As she got older, she only became more passionate about animal protection and anti-vivisection, specifically.
"I came to despise the hypocrisy of vivisectors. Researchers commit such atrocities under the name of 'good.' It is the one area where people defend their cruelty by claiming it is for noble ends. Abattoirs don't. Furriers don't. Researchers' lies are a big part of why I abhor it."
As a private-practice psychologist, she found she could make the income she needed seeing patients just a few days a week, leaving plenty of time for animal activism. She joined NEAVS' board and continued her practice part-time for about 20 years before becoming NEAVS' full-time executive director, a role she held for another 20. Prior to NEAVS, she served as co-president of Psychologists for the Ethical Treatment of Animals, helped win the strictest regulations for carriage horses in the country for Boston, and exposed the cruelty of traditional Chinese medicine's bear bile use.
Friends and colleagues say it's Capaldo's honesty, relentlessness and effectiveness that set her apart.
"She leaves no stone unturned in her quest for truth and clarity," says Jill Robinson, founder and CEO of Animals Asia Foundation. "As a trained psychologist, she explores every component, every argument, intelligently, diplomatically, but ruthlessly too. She is also the most amazing ally for women everywhere, especially those in the animal welfare movement."
Of all her work, Capaldo is best known for leading the charge that ended U.S. chimp research, through a NEAVS campaign called Project R&R, launched in 2004, four years after passage of the CHIMP Act, which called for the creation of a national sanctuary system for research chimps no longer in use and mandated that they couldn't be euthanized for labs' convenience.
"It seemed like the movement had taken it to that point, and then said, 'Good, we got that done,'" Capaldo recalls. "But we still at the time had some 1,800-plus chimps in U.S. labs, and when we looked at the science, we saw that it was failing. The beautiful double whammy here is that chimps are so genetically like us, and it was still failing to be truly useful to human health."
Activists also had another strategically powerful tool that Capaldo recognized – living, retired chimps in sanctuaries whose stories could be shared and whose trauma was obvious.
"We had all of the essential ingredients of a campaign that had to succeed."
In discussing Project R&R, Capaldo displays the candor for which she is admired.
"Some people said it's speciesist to just focus on chimps," she says. "Well, one thing I said to animal groups when we started was that we had to focus on chimpanzees because we can always count on human narcissism. And people would laugh, and I would say, 'I'm serious.' Humans are inclined toward what they can most relate to, what is most like them. For many, it's a kind of narcissistic empathy."
Recalling how some sanctuaries that she tried to work with were reluctant to take a position against chimp research, Capaldo says, "That's something the sanctuary community is going to have to answer for with St. Peter or Jesus or Buddha or whoever they go to. Because you have to be strong. There's a naivete in thinking you can convince a lab to give up something entirely that is so lucrative for them. You can't. People do not give up privilege. You have to take privilege from people.
"The occasional monkey or beagle you get to rescue by playing nice with the labs is not the formula for ending it for the tens of thousands of monkeys and millions of other species who will continue to be used unless advocates strike at the very heart of the vivisection industry."
As for what she is most proud of, beyond the major victories, Capaldo names her focus on being strategic and on using science. NEAVS published many papers in peer-reviewed journals to complement its campaign work, and while there and at Psychologists for the Ethical Treatment of Animals, Capaldo prioritized efforts to end the harmful use of animals at all levels of education and professional training, including high school biology courses, to make room for a new generation of compassionate scientists.
Capaldo officially retired from NEAVS in 2017 but continued with a few special projects until the end of 2018. Today, she is focused on the American Fund for Alternatives to Animal Research, a foundation that provides funding for the development of alternatives to animal use in science.
She is still in the fight, with decades of insight inside her.
On moving people to action for animals, she says that overcoming self-interest is key. "You do that by helping them get that the self is so much bigger than the boundaries of their own body. In the end, we have to realize that we're all part of one world."
Capaldo's biggest concern about the animal rights movement today? The number of organizations and campaigns that aren't doing what she calls real work. "Pseudo-campaigns, with little or no teeth, for the sake of fundraising are, to me, unethical and set the animals back," she says. "They accomplish little other than more money for an organization to do more fund-raising. That, in a word, is unconscionable."
About the decision by many animal rights groups to focus singularly on factory farming because it is where the most animals are harmed, Capaldo says: "What I don't like about it is that it compartmentalizes compassion. We could argue that animals in research suffer in the most egregious and diverse ways. While animals in food production need us desperately, I think 'most' is an arbitrarily assigned value."
About self-care among animal activists and staying in the fight, she says activists must be prepared for lots of failure, and they must remember that what initially looks like failure is instead often laying critical groundwork for future victories. That was certainly the case with ending chimp research, she says.
Capaldo adds that it's OK to acknowledge that some people simply aren't well suited for certain types of activism.
"I think you have to be the kind of person who won't take no for an answer. When you do this kind of work, it's war. There's a war against animals, and if you're a soldier trying to stop it, you're going to see a lot of bodies, and many days you're going to feel powerless to help them, and that's the worst feeling," she says.
"But if you've got moxie, you just get up, go back and keep doing it and doing it."
Photos by Jo-Anne McArthur. Interview and story by Corinne Benedict.