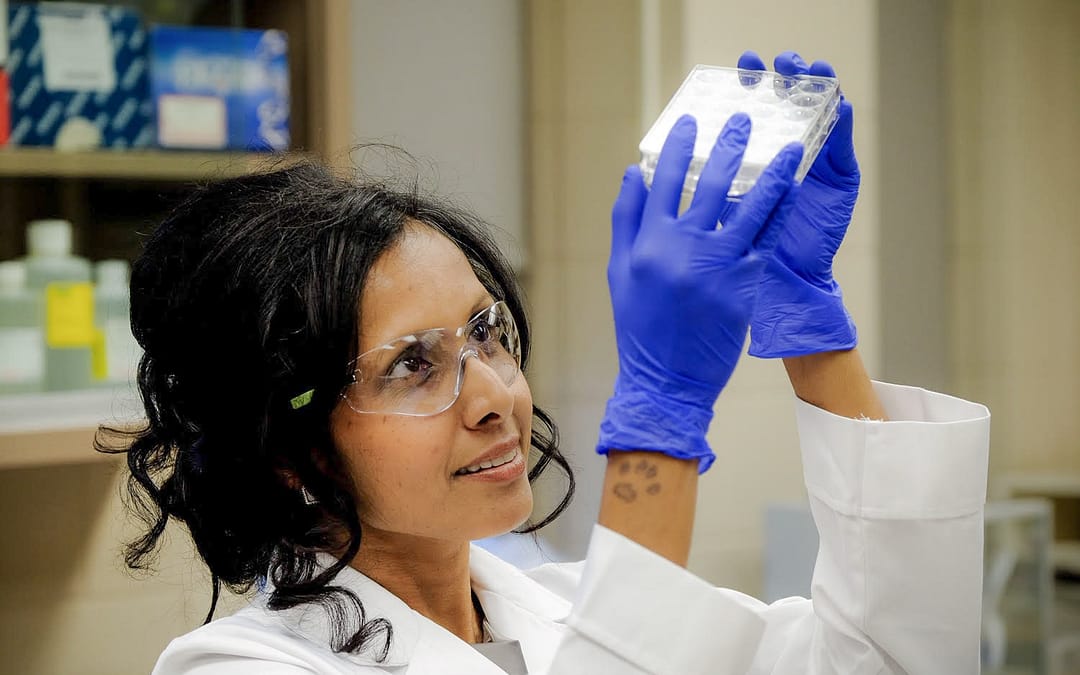 "It is going to happen in my lifetime, and it's a win-win situation for everyone involved."
On a warm October day in Halifax, Dr. Charu Chandrasekera is attending the inaugural Canadian Animal Law Conference, to speak on a panel entitled, 'Ending Animal Experimentation: New Advances.' That same weekend, coincidentally, the Canadian Cancer Society's CIBC Run For The Cure is also taking place, to raise funds for breast cancer research. As Dr. Chandrasekera and I sit in a coffee shop to discuss her work, participants jog by and she quips: "I wish I could tell them they are not running for a cure. They are running from a cure."
And so began a conversation both enlightening and enraging, detailing Dr. Chandrasekera's journey as a biomedical scientist growing increasingly disenchanted by the system within which she works, specifically due to the use of animal models in research.
Though her story lands her today as the Executive Director of the Canadian Centre for Alternatives to Animal Methods at the University of Windsor in Ontario, Canada, it surprisingly didn't start with concern for animals.
"The journey didn't start with anything to do with animals," she says, "it was me trying to be a scientist." In her postdoctoral training following her PhD in biochemistry and molecular biology, Dr. Chandrasekera says she actually specifically worked in animal research labs, "because it was ingrained in you that animal research is absolutely essential; and I believed it, I trusted it."
Heart failure was her area of research, mice and rats her test subjects. "Some of the labs I worked in also had rabbit models, and I saw people working dog models of heart failure as well," she says. Soon into the work, however, Dr. Chandrasekera says, "it became very obvious that the work I was doing was not translatable [to humans] the way I thought it was." And though she would continue this work for a few years, she would also continue to question the purpose and effectiveness of testing on animals. "In the field that I was involved in, nothing was really reproducible; there were so many discrepancies and contradictions even among the top-notch researchers in that field."
Today, she notes, drugs tested to be safe and/or effective in animal models have a 95 percent failure rate in human trials. Yes, read that over again.
During this period, says Dr. Chandrasekera, "while I was going through this whole experience in these animal research labs where scientifically they weren't working, I was also going through a personal, moral journey at home." Becoming visibly choked up, Dr. Chandrasekera speaks of her dear cat Mowgli, a grey tabby with green eyes.
"She [Mowgli] taught me all about animal sentience for the first time in my life, about who animals really are. That they are just like us, they feel pain, they feel joy, they are mischievous, they get mad, they like to enjoy, and they are conscious."
There was a certain innocence and purity in Mowgli's eyes, she says, that captivated her heart. "And soon enough, there were times when I would go into the lab and I would see the exact same innocence and purity in the eyes of a mouse. And to me, there was no difference between Mowgli and the mouse I was giving heart disease to." Combined with the scientific failures of animal research, she says, "it was no longer justifiable."
It was around this time Dr. Chandrasekera also adds, that she viewed the documentary Food, Inc., and immediately went vegan.
But it was in 2011 that Dr. Chandrasekera says she reached a point she describes as life-altering when her father had a heart attack and required bypass surgery. After staying at his bedside for weeks, she returned to the lab where they were working on heart failure research, specifically regarding certain receptors, if activated properly during a heart attack could be protective of the heart. "We had a number of different animal models of this," she says, "and when I came back to the lab I talked to my professor I was working for, and I said 'Do you think these receptors were activated in my dad during his heart attack?' and he said –I'll never forget this– 'How the hell would I know? We've never looked at this in the human heart.'"
It was at that moment, she says, "everything within me sort of froze, and I thought, 'What am I doing this for?'"
By 2012, Dr. Chandrasekera left traditional academia. She joined the American non-profit, The Physicians Committee for Responsible Medicine, which promotes plant-based eating, as well as preventive medicine and alternatives to animal research. "It was during this period that I was exposed to this whole other world. I got to interact with big players across the globe, people who were legitimate scientists, who were regulators, who were pharma industry, who were investing and actively promoting alternatives to animal testing." She calls it an awakening, an awakening within her, as well as within the scientific community.
"There was a huge global shift. Countries like the Netherlands just came up and said, 'We're going to end all animal testing for chemical safety by 2025'; all these things were happening," she says.
"From Brazil to East Asia, there are many countries that have dedicated federally funded research to shift away from animal testing."
Whenever she would attend international meetings however, "people always asked, 'How come there is no centre for alternatives in Canada?'" That's when Dr. Chandrasekera knew what she needed to do next.
So in 2016, Dr. Chandrasekera approached the Vice President of Research and Innovation at the University of Windsor with a proposal, and said "How would you like to have a centre like that here?" He was fully on board, she says, as was the new Dean of Science, and in less than a year the Canadian Centre for Alternatives to Animal Methods was established. With the help of a "transformative gift from the Eric S. Margolis Family Foundation," she says, the centre now works in three main areas: biomedical research, regulatory testing, and developing courses and degrees focused on "training the next generation to think outside the cage."
Dr. Chandrasekera says she can now foresee a future without animal testing.
"It is going to happen in my lifetime, and it's a win-win situation for everyone involved."
As another Run For the Cure participant saunters by the coffee shop window, Dr. Chandrasekera concludes: "This is about animals and this is about people like my dad. Alternatives to animal testing are where the world is headed, whether the scientific community likes it or not."
Photos of Dr. Charu Chandrasekera by Frank Michael Photography. All other photos by Jo-Anne McArthur. Interview and story by Jessica Scott-Reid.
Jessica Scott-Reid is a Canadian journalist and animal advocate. Her work appears regularly in the Globe and Mail, New York Daily News, Toronto Star, Maclean's Magazine and others.