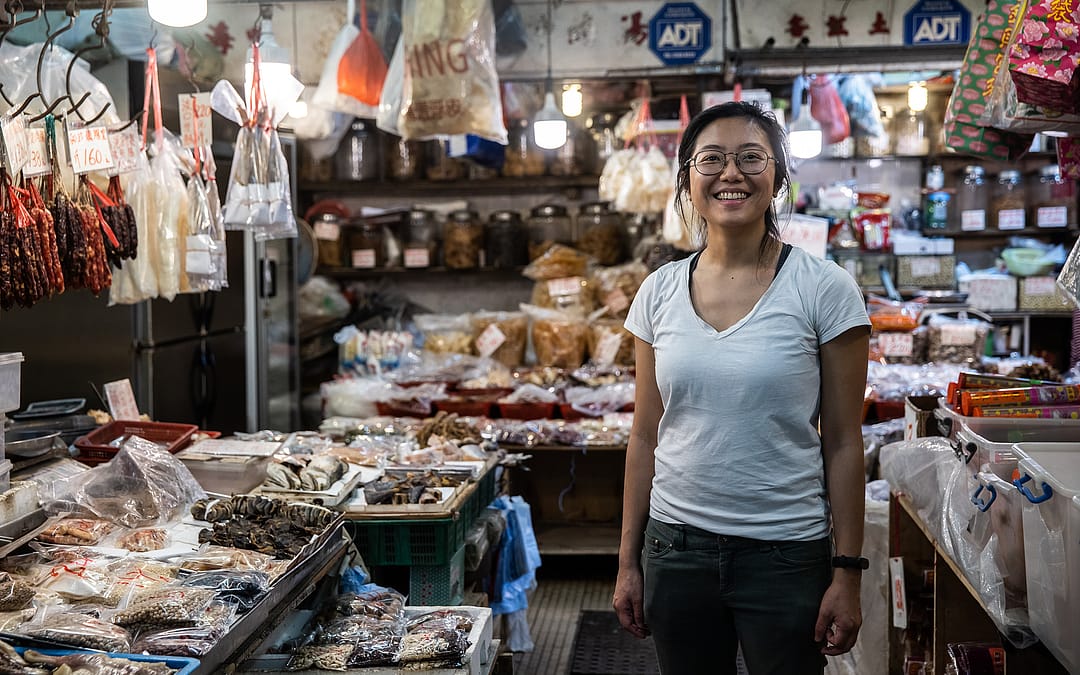 "If you want to be effective at changing people's minds and behaviours, it's very important to first understand how they think, and how they behave, and why."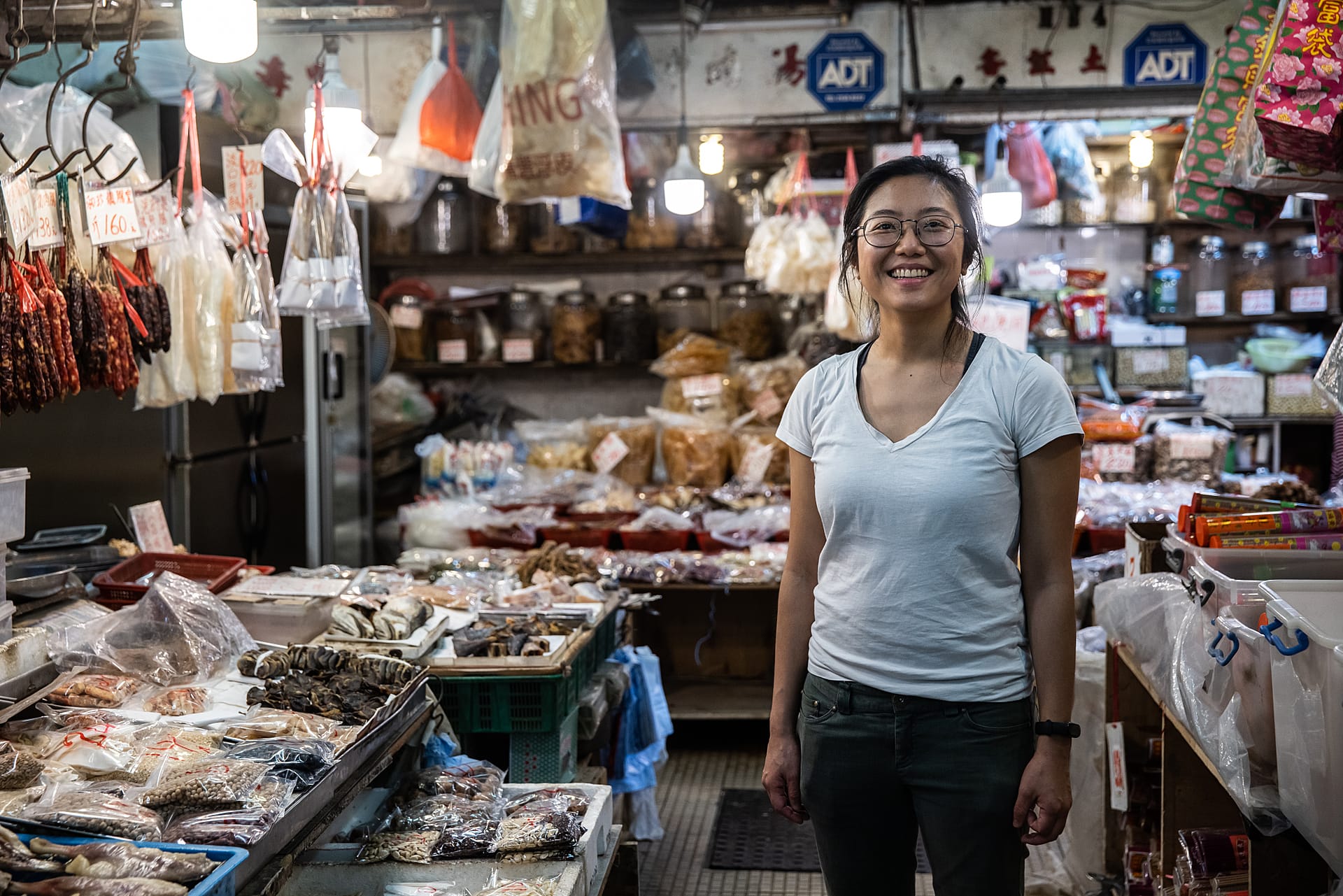 After interning with the UN in Beijing, then graduating from university in 2010, Jah Ying Chung began campaigning for the environment. Her interest in international development fed into a concern about how climate change could impact people in underdeveloped nations in Asia.
"I remember talking about Bangladesh, how if the sea level rises and there is flooding, [there is a] lack of infrastructure to ensure the wellbeing of everyone, especially those living near the coast," she says. "These kinds of issues were very fascinating to me ever since high school."
Though at that time Chung had not yet made the connection between animal agriculture and climate change, the further she got into campaigning for the planet, the more she learned about how much her own meat consumption was contributing to the very problem she was battling. "That's when I started to eliminate meat," she recalls, and it's when she started shifting the focus of her mission.
Chung's first project was a platform to help student groups in Asia fundraise and connect with corporate sponsors. "The mission originally was to empower students so they could do more on campus, and hopefully that leads to more meaningful things when they graduate." But eventually, Chung wanted to do more. She sold the company after five years and began searching for her next venture.
"I was very adamant," she recalls, "that whatever I do next it needs to not only feel like it's a good thing [..] but it had to be concretely impactful with evidence to back it up."
Eventually that search led her to animal welfare and the plant-based/alt-protein space in Asia, and to designing and doing market research that helps companies better understand Asian consumers.
Today, Chung is the co-founder of The Good Growth Co., a market research firm "for sustainable and ethical food systems in Asia," according to the organization's website. Good Growth works with "alternative protein companies, animal welfare nonprofits and social impact funders to understand consumers, scope new markets and prototype products & programmes."
"The whole idea was to help good things grow," she says of building Good Growth Co. in 2019.
Now, plant-based and alt-protein companies, as well as animal advocacy organizations looking to expand to Asia, for example, can and do look to Chung's important work to learn how to most effectively target people in that region, and to understand the opportunities and challenges of working in these countries.
"If you want to be effective at changing people's minds and behaviours, it's very important to first understand how they think, and how they behave, and why." For example, she explains, "one interesting thing we can look at is what do advocates believe about consumers, and what do consumers actually think?"
Chung recently partnered with Faunalytics, for a ground-breaking two-phase study that asked animal advocates what they thought were effective strategies and then asked the same of consumers. According to Faunalytics: "After seeking input from members of the farmed animal protection community in China, we conducted focus groups regarding the attitudes of Chinese consumers towards meat consumption, the concept of farmed animal welfare, different types of messaging and strategies for encouraging movement growth." What the study found was, in part, that Chinese consumers are most concerned with farmed animal welfare due to reasons around food quality and food safety. "Products labeled as higher-welfare are more trusted, while lower-quality products are associated with a range of concerns, including animals being raised in unsanitary conditions, and the use of hormones, antibiotics, and GM products on farms," according to the study's key findings.
Further, the study also found that "animal welfare was not generally seen as a foreign concept. Contrary to what some China-based advocates suspected in our Phase 1 report, we found that most participants exposed to the concept and details of provisions for animal welfare did not generally see it as something foreign, Western, or associated with foreign values."
Chung calls the latter findings surprising but points out that cultural stereotypes can perpetuate false assumptions about certain consumer groups, thus making this kind of market research all the more important for truly understanding market opportunities.
Chung describes the work she is doing now as "exciting" and says she feels very lucky to be doing something helpful.
"From a cause perspective, there [is] quite a lot of evidence that this work is impactful." Perhaps reluctantly, the humble researcher even admits "it's kind of a dream job being able to combine intellectual interests while working on an impactful cause."
But now Chung is thinking about what she calls "the last mile," making sure people are actually using the information that is gathered, as well as making it even easier to do so. "This is why I am conducting research on research," she adds, to design the company and its processes to make it all more usable, to maximize impact.
Finally, when asked what her personal hope is for farmed animals in China and for the future of the plant-based food and alt-protein movement in Asia, in true researcher form Chung answers with questions: "What does it look like from the Chinese perspective?" she asks. "What does welfare mean, what does a good life mean?" She says she does not yet know the answer, and that's what keeps her so invested in this cause.
"Discovering what good looks like from the perspective of Asian stakeholders, and trying to connect it with those from the West," she says, "that [is] the most fascinating part of the work."
Written by Jessica Scott Reid