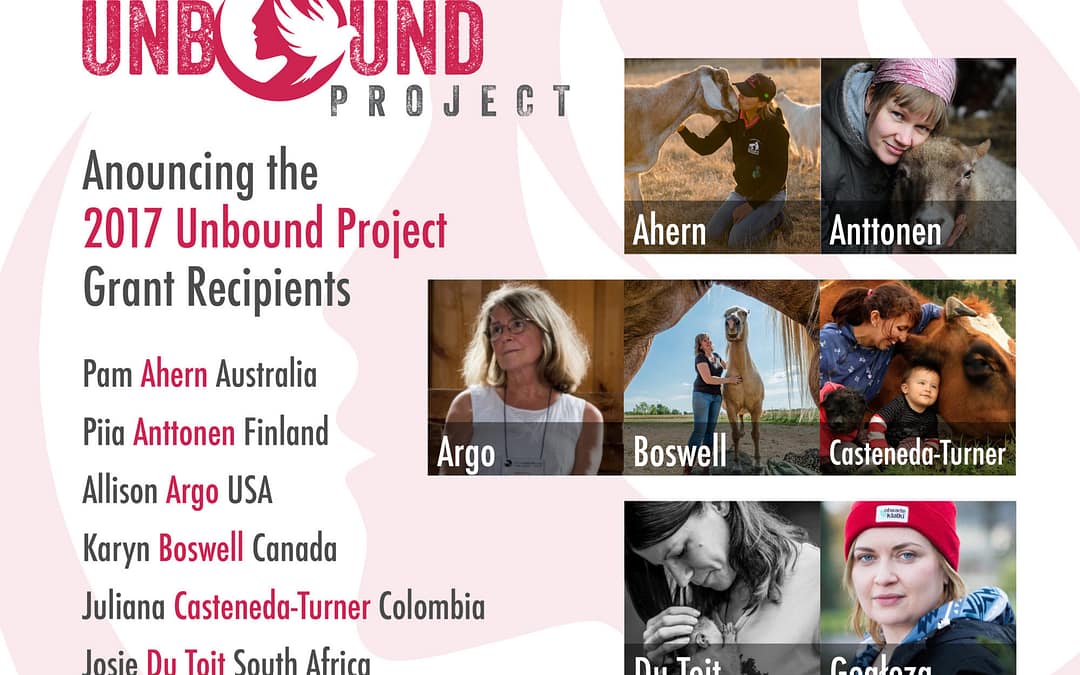 In 2017, the Unbound Project invited some of our featured women to apply for our first-ever round of grants to support projects aimed at helping farmed animals around the world. We awarded grants to women doing remarkable work to make real change for animals. We gave away a total of $100,000, with 10 grants of $10,000 each going towards funding innovative projects in eight countries.
Read the stories of the projects we're funding and the women leading them below.
Note that any future Unbound Project Grants will also be awarded to applicants who are invited to submit funding proposals. We are not accepting unsolicited applications at this time. 
2017 Unbound Project Grant Recipients
Pam Ahern – Australia
Ahern is the founder of Edgar's Mission, a sanctuary for rescued farm animals and one of Australia's most important voices in farm animal protection. The sanctuary is home to hundreds of animals and also runs animal protection and vegan advocacy campaigns and events on-site and around the country. Ahern's 2017 Unbound Project Grant will go towards funding a cross-country speaking tour in Australia where she will share the story of starting a sanctuary farm sanctuary and dedicating her life to animal
Check back in 2018 for Ahern's full Unbound profile.
Piia Anttonen – Finland
Anttonen runs Tuulispää Animal Sanctuary in Finland, a sanctuary she founded in 2012 after pledging to always help the animals most in need, the elderly, the sick, the abused, and the neglected. Anttonen's 2017 Unbound Project Grant will go towards stepping up her sanctuary's vegan advocacy with the creation of an on-site education centre to host plant-based cooking classes, film screenings, speakers, school visits, and community events.
Read Anttonen's full Unbound profile here.
Allison Argo – USA
Argo became a filmmaker almost by accident as she sought a way to speak for those who could not tell their own stories. "I look for those who are struggling – for survival or freedom or simply for dignity and respect," she says. Argo's latest film, documentary The Last Pig tells the story of a pig farmer who, after a change of heart, sent his remaining animals to sanctuaries and moved to plant-based farming. Argo's 2017 Unbound Project Grant will be used to promote the film.
Read Argo's full Unbound profile here.
Karyn Boswell – Canada
Boswell founded and runs Penny Lane Farm Sanctuary in Canada. Almost an accidental activist, she started the sanctuary after moving to a rural area and being shocked by the treatment of horses sold (generally for horsemeat) at auctions. Today Penny Lane is an important voice for horses and other farmed animals in Canada. Boswell's 2017 Unbound Project Grant will go towards the construction of a visitor barn and educational space at the sanctuary's new location, allowing visitors and school children to learn about the sanctuary's animal residents and the industries that abuse countless animals just like them each year.
Read Boswell's full Unbound profile here.
Juliana Casteñeda-Turner – Colombia
Casteñeda-Turner is the founding director of Juliana's Animal Sanctuary, which she officially opened in 2008. The sanctuary is now home to more than 80 rescued animals—most of them farm animals—and also runs education and vegan outreach programs. Casteñeda-Turner's 2017 Unbound Project grant will go towards expanding the sanctuary's educational outreach and providing free vegan resources to schools in Colombia.
Read Casteñeda-Turner's full Unbound profile here.
Josie Du Toit – South Africa
Du Toit is Co-Director of the Vervet Monkey Foundation in South Africa. Born and raised in England, Du Toit's early love for animals led her to volunteer and work full time at the African sanctuary she's now called home for more than ten years. Under Du Toit's leadership, the vervet sanctuary has also developed a vegan outreach program, and the 2017 Unbound Project Grant will be used to build an on-site kitchen to host vegan cooking classes for volunteers, community members, and chefs from local schools.
Read Du Toit's full Unbound profile here.
Dobrosława Gogłoza – Poland
Gogłoza is the co-founder of Otwarte Klatki (branded as Open Cages internationally), the Polish organization driving change for animals in Eastern Europe. Gogłoza's group focuses its energy on campaigns and projects that will have the maximum impact for animals. Her 2017 Unbound Project Grant will go towards a high-impact plant-based advocacy campaign in Estonia.
Read Gogłoza's full Unbound profile here.
Camille Labchuk – Canada
Labchuk is Executive Director of Animal Justice, Canada's only legal advocacy organization for animals. A lifelong activist, Labchuk made the decision to become a lawyer in order to fight for greater legal and political protections for animals. Since its foundation, Animal Justice has quickly become one of the leading national voices for animals in Canada. Labchuk and Animal Justice will use the 2017 Unbound Project Grant to increase their federal political outreach and bring media attention to the need for federal protections for farm animals.
Read Labchuk's full Unbound profile here.
Smaragda Louw – South Africa
Louw co-founded Ban Animal Trading (BAT) in 2013 and the group has quickly made a name for itself in animal protection in South Africa. Louw's group has a broad focus and a relentless drive to keep conducting new investigations, launching new campaigns, and generally keep animal issues in the public eye. Louw and BAT will use their 2017 Unbound Project Grant to fund investigative work on farms through 2018.
Read Louw's full Unbound profile here.
Hazel Zhang – China
When Zhang watched a documentary about the brutal treatment of farm animals, she knew she had to take action. She started VegPlanet, a website that shares news and resources about living a vegan lifestyle –– one of the first of its kind in China. Today, Zhang's site has hundreds of thousands of followers and a growing team of full-time staff.  She and her team will use the 2017 Unbound Project Grant to host a series of simultaneous vegan events, promoting them online and in the media to increase public awareness of the benefits of plant-based diets.
Watch Hazel's Unbound video profile here.
---
Text by Sayara Thurston. All featured photos by Jo-Anne McArthur/Unbound Project except where indicated.