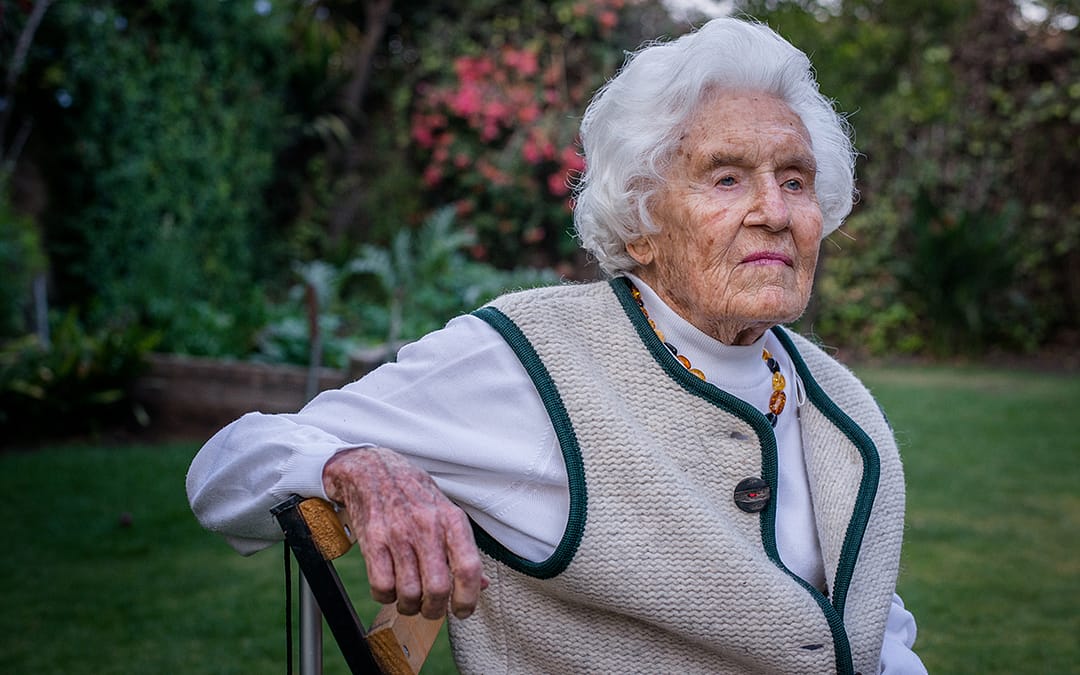 "As long as I can hear and talk, I still defend animals."
Driving to meet Dr. Aline de Aluja, her two colleagues talk about her enthusiastically.  She's definitely an extrovert, they say, direct, extremely sincere, and guided by a strong code of ethics. This is a woman, now 97 years old, who has dedicated her life to reforming animal welfare in Mexico.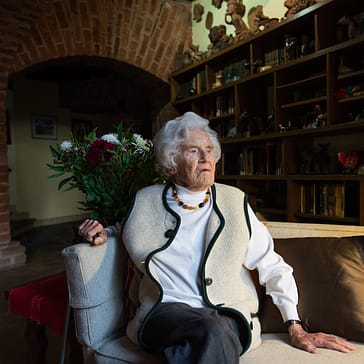 When we arrive at her home –– a big house filled with her father's antiques and fascinating finds from around the world –– two exuberant dogs greet us. One, Canela, was found by de Aluja's grandson, abandoned. He brought her to live with de Aluja, who took her in with open arms. It's just one of the many small acts of kindness for which she is famed.
De Aluja was one of the first women to study veterinary medicine in Mexico. She thinks she may have been the fifth female student, at a time when there was not even a female bathroom at the school. She had always wanted to become a vet, but her father wasn't keen on the idea. "It was quite unusual at that time for a woman to become a vet. Now, there are more women than men vets!"
De Aluja's concern for animals began at boarding school in Germany, where she attended the same school as Prince Phillip. There, she was the director of the school's 'zoo,' which was home to rabbits, guinea pigs, and a goat, all of whom she loved dearly. One evening, returning to the school after a vacation, she ran to check on the animals, only to find the goat missing. She asked the kitchen staff where the animal was and was told that she would be eating the goat for dinner.
I am convinced that they are aware of everything.
The shock and sadness this caused her motivated de Aluja to become a vegetarian on the spot, a commitment that she has maintained for eighty years. In Europe, even in the 1930s, de Aluja says it wasn't particularly unusual to turn down meat. However, when she moved to Mexico with her family at age 18, it was a different story. Like many others living in Spain during Franco's military dictatorship, her father fled to Mexico.
Moving wasn't easy. When she began studying at university, she encountered the retorts of her fellow veterinary students. "It seemed to them rather eccentric that I didn't eat meat. They thought that it was absolutely necessary to eat meat; many people do."
"In Mexico, people are not animal-minded," she explains. It was different to the culture in Europe, where she observed that people were very attached to their animals. The prevalence of Catholicism in Mexico has something to do with it, she says. "The attitude is, animals have no soul and so they don't feel, and they are not aware of things. And that is very difficult because I am convincedthat they are aware of everything."
I don't care whether they laugh, because I know that I'm right.
Most of her cohort went into small animal practice. Not one to go with the grain, de Aluja began practicing with farmed and working animals. This was challenging, as farmers and labourers typically couldn't afford to pay for veterinary care.
For many years she taught and spoke at universities, where she was laughed at for her focus on animal welfare. Still, she persisted. "I don't care whether they think that I'm a little ridiculous," de Aluja declares. "I don't care whether they laugh, because I know that I'm right." These days they don't laugh, and concern for animal welfare is increasing.
Her favorite part of her job is working with the poor, teaching communities to take care of their animals. She inspires change by showing people that it's profitable for them to treat their animals well, keeping them healthy and productive. "It is not easy, but I think it is very necessary," she says.
As long as I can hear and talk, I still defend animals.
De Aluja founded the Donkey Project, in collaboration with the UK's Donkey Sanctuary, sending teams of veterinarians into the Mexican countryside to provide much-needed medical attention to donkeys, who are used in gruelling labour and receive little food or care for their hooves.
Has she achieved change in animal welfare in the country? "I don't think so," she says modestly. Her colleagues disagree. Thanks to de Aluja there is now an ethology department at the university, giving academics and practitioners training in animal welfare. She has been influential in the faculty, which is using the Donkey Project as a model for further outreach work in rural Mexico. Many people look up to her as a leader in Mexican animal welfare. "Do you think I have achieved that?" she asks, surprised. "Well that would be very nice!"
De Aluja hasn't stopped working for animals since graduating almost 70 years ago, and she has no plans to retire. "If you are convinced of something, even if you retire, I would still go on doing the same sort of work. As long as I can hear and talk, I still defend animals."
---
Photos by Jo-Anne McArthur. Interview and text by Anna Mackiewicz.