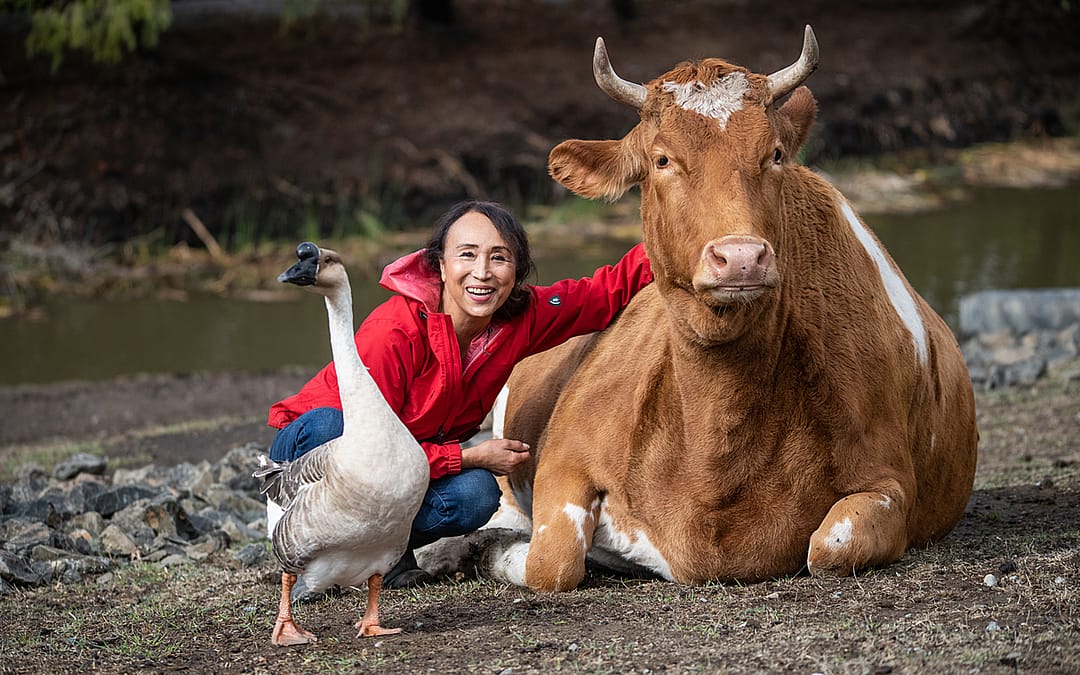 "Why am I making cheese out of cashews and legumes? Because it's all about the animals. They are entitled to a life of their own, to live life according to their wishes, and that's a story we want to tell." ~ Miyoko Schinner
Miyoko Schinner is the founder of the animal sanctuary Rancho Compasión and of Miyoko's Creamery, a multi-million dollar vegan cheese and butter company.
Vegetarian since the age of twelve and vegan since the mid-1980s, Schinner has dedicated her life to advocating for animals. Her sanctuary, with compassion at the heart of its name and mission, provides a lifelong home for rescued farm animals and strives to change public perception about animals typically viewed as "food." In the video featured here, see Schinner at the sanctuary as she proudly shows off the "Phenomenally Vegan" tattoo she got on her 60th birthday.
Continuing with her compassion-centered theme, Schinner focused her skills as a chef on bringing compassion to the table with dairy free cheeses, spreads, and butters. Miyoko's Creamery products are all 100% vegan, lactose free, GMO free, palm-oil free, and cruelty-free. Schinner invented the category of artisan vegan cheese, and she is often referred to as the "Queen of Vegan Cheese" or as the woman on a mission to revolutionize the entire dairy industry. Schinner's mission to create the creamery of tomorrow also sees today's independent dairy farmers as allies who can play an essential role. Her company works with them to grow plant milk crops and thus, transition to the prosperous world of plant-based dairy. The Miyoko's brand promise, reminiscent of her tattoo, is to be "phenomenally vegan in everything we do."
"From our humble beginnings with four employees in Miyoko's home kitchen, to a 30,000 sq ft. state-of-the-art facility in Sonoma, we're leading the way in transforming the future of the creamery. In just a few short years, our products can be found in 1,000's of stores and our 'cheese' wheels are on the road to global distribution in the near future. We're changing perceptions of vegan food, to inspire people from all walks of life to enjoy a phenomenally vegan lifestyle." ~ the Miyoko's Creamery website
In 2021, Schinner's company continued to attract millions of dollars in capital investments and won a lawsuit to maintain the right to refer to her products as "butter." With food as a powerful form of activism, the Miyoko's Creamery mission continues on, striving "to create the blueprint for the animal-free dairy food system of tomorrow, for the urgent salvation of our planet and all that we share it with."
Video by Henry Hopkins