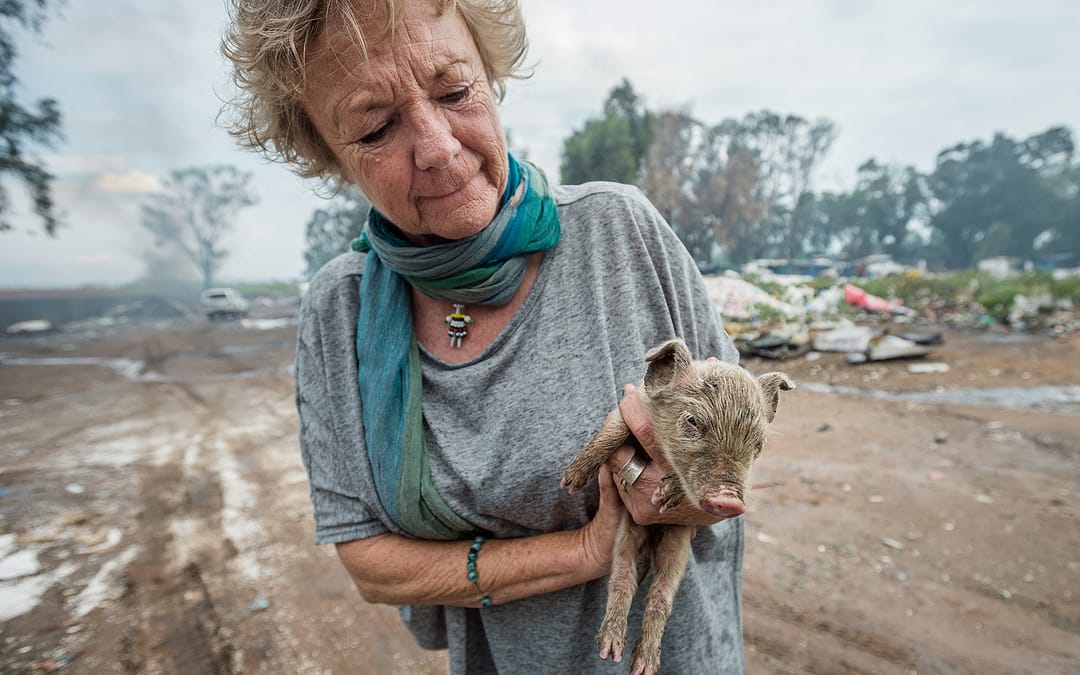 The boy is small, far too young to be informing on people running dog fighting rings. But here he is, waiting for Cora Bailey under the appointed tree in the middle of a barren field.
"This is not a nice place," Bailey, a petite blonde in her mid-60s, says of the neighborhood, a desperate, deeply impoverished part of Soweto, a township on the outskirts of Johannesburg. It's so dangerous here that few white South Africans dare to come.
But Bailey is different. She visits the townships daily. She knows this little boy well. She worries he's already going crooked, spending time with the wrong people in the absence of parents. 
Photo: Cora with a rescued piglet at the Randfontein municipal dump site.
Where does she go? Why are we always hungry?
"Don't pick your face," she says, gently swatting his hand as he tells her what he knows about the latest dog fights and the drug dealers who are involved. Then the conversation turns to him. Bailey asks about his health and explains some relaxation techniques that might help his headaches. She can tell something else is wrong.
"Tell me," she says, and the boy, starting to cry, unloads. His mother is never around, he says. She doesn't look after any of his siblings, so he is left to change nappies and beg neighbors for food. Where does she go? Why are we always hungry? He asks Bailey.
Founder of the organization
Community Led Animal Welfare
(CLAW) Bailey has dedicated herself to helping animals across Johannesburg's townships for nearly three decades. It started in 1991, back when she was a board member for the local SPCA, before South Africa's first democratic elections and in the midst of apartheid and a brutal civil war.
"Most of that war was in the townships," says Bailey, a mother of four and grandmother of seven. After massacres, she'd visit their scenes to collect the animals who had been left behind, injured and starving.
Quickly, Bailey learned a truth that has defined her life's work:
If you want to help animals here, you have to help humans, too.
Photo: A monkey saying hello to Cora Bailey.
"It was never very easy to tell people how to look after their animals when you see the dire poverty," Bailey says.
"We didn't ever set out to do food parcels or community gardens or to counsel sick people. But it's hard not to do that when they have nothing."
Bailey's days are as varied as they are trauma-filled. Essentially, she spends them doing the best she can to alleviate suffering wherever she finds it, and in a place like this, it's easy to find. 
Especially when you can't seem to stop yourself from looking for it.
Especially when you're the only one there is to call. 
Photo: Bailey and community members of the Randfontein municipal dump site.
Photo: Bailey chatting with friends and dogs in Soweto.
On the way to bring food to a man who is dying of AIDS, Bailey might rescue a dog who has been left for dead on the side of a road after being hit by a car or stabbed. On her way to talk to the police about illegally sold rat poison that is also killing dogs, she might hear about a toddler in need of a ride to a hospital after being badly burned by a cooking fire.
While visiting a child with cerebral palsy, she might get a call about a vervet monkey or chacma baboon who has been chased up a tree after wandering into a suburb. 
Sometimes Bailey arrives to find an animal whose limbs have all been cut off. Sometimes she finds a crowd at the base of the tree, in which case she'll spend hours carefully persuading them to let her intervene.
Imagine how scary this must be for the monkey, she'll say. He must want to be with his family again.
Whenever her phone rings – suicidal children, dogs with all four legs broken, alcoholic rampages – Bailey's answer is usually the same, even late at night:
I'm coming.
She is at once as hard and as soft as they come.
Hard: Driving through Soweto, she spots a group of young men. They make money fighting dogs and selling drugs, and after Bailey made problems for them, they threatened to burn her house down, which, here, is well within the realm of plausibility. But Bailey doesn't turn her car around or hurry by. She slows down, pulls up next to them, rolls down her window, leans out and stares. 
Soft: Inside a rundown hut, Bailey cradles a woman named Petronela who has AIDS and is gravely sick. Petronela cries about her philandering husband, the pain of dying, and her worry for her children. Bailey listens, and then helps get her into hospice care. 
Photo: Cora Bailey with a semi-paralyzed puppy.
Bailey has been shot at and held up.
When a girl is raped, Bailey is often summoned instead of the authorities. Women with nowhere else to go have shown up at her veterinary clinic to give birth. She has been asked to adopt people's children, which she has. She has taken on too many fosters over the years to count, both animal and human.
Among them is Moses, who is older now but still close with Bailey. He lives at a place known as The Dumping, a massive municipal garbage dump in Randfontein. Here, the poorest of the poor scavenge for scraps and criminals evading capture hide from the police, who are generally too afraid to come here because of the violence. But Bailey is loved at The Dumping and visits often. She arrives with food and veterinary care and leaves with broken people and animals who she and CLAW will try to piece back together.
Bailey finds Moses, who spent years coming and going from her house when he was younger. They chat as they walk The Dumping together. They find a runt piglet struggling desperately to keep up with her litter. Bailey scoops her up. Filthy and tiny, it's clear she's severely malnourished –– without the right nutrition soon, she may not survive. Next, they find a bone-thin dog so sick and pained that Moses has to carry him to Bailey's car. With the piglet asleep in the front and the dog vomiting in the back, Bailey drives to CLAW's clinic. 
Photo: Moses helping round up dogs for vaccinations and vet checks at the CLAW mobile vet clinic at the Randfontein municipal dump.
Located in Durban Deep, an abandoned mining town now plagued by crime, the clinic lacks running water and grid electricity. Sometimes there is power from solar panels, but they're stolen often enough that Bailey is accustomed to getting by in the dark. She has no formal veterinary training but has saved many lives all on her own. In seconds she knows whether it's parvo or poison or a tick-borne disease. She lifts the scruff of a neck and can tell the dehydration is severe. She sees ghost-white gums and knows she has to move quickly.
After the vomiting dog is carried inside, Bailey starts his IV while she soothes him. Next, she goes in search of the appropriate milk for the piglet. She finds a farmer who is happy to give her some, and while the piglet gulps it down, Bailey advises the farmer on how to care for an infected spider bite she noticed on his hand.
Bailey stays up all night with the piglet, who survives, is named Whammy and ends up at a sanctuary. The dog recovers too. 
Things don't always turn out so well, of course: The animals whose wounds went neglected for too long. The dogs who've been too thoroughly destroyed, inside and out, by fighting. When euthanasia is the best choice, Bailey does what is needed, wipes away tears and gets on with whatever is next. Because what bothers her more than the animal in front of her, now at peace, is the one still out there who she might not find.
"There are thousands of places we can't reach," she says. "The hardest part is when you stop and think about how much there is to do."
For much of what she has done, Bailey credits CLAW's team. In addition to a shelter, adoptions, and its physical clinic, CLAW offers mobile vet clinics in the townships, where long lines of people wait to have their cats, dogs and more vaccinated and examined. For humans, CLAW distributes food, runs community gardens, assists child-headed households, teaches people how to care for the sick and dying, organizes communities to advocate for things such as water and rape victims' rights, and hosts community events and a children's program in Durban Deep. CLAW also serves as a drop-in center for kids, where they sing, read, and soak up attention from Bailey as she imparts the importance of sterilization for their pets and compassion for all. For much of its existence, CLAW received international funding, but today it scrapes by on small donations.
Photo: Cora Bailey and Anna, a friend and community worker, in some of the community gardens in Soweto. CLAW staff and volunteer teach community gardening to Soweto inhabitants.
Over the years, Bailey says, she has seen progress. In the beginning, she had to beg people to let her treat their animals. Now, people wait hours in the sun for care or walk kilometres with sick pets in wheelbarrows or in their arms. She says the flipside of all the suffering and brutality she encounters is the enormous love that even the poorest South Africans often display for their animals. She believes that anyone can be a good pet owner with a little support, and that everyone deserves the chance to be.
"I saw it, and once I did, I couldn't turn away."
Still, she continues to find herself in communities that have never had access to humane education or vet care. She continues to come across people who see sterilizing a dog as crazy.
Then I won't have a pet next year when this one dies,
she still hears.
She says the problem is the overwhelming divide between haves and have-nots in South Africa. The haves must do more, she says.
"We've got to get out of this bubble."
Bailey is technically retired now, having stepped away from the operational side of the organization she founded. All who know her, though, say that it's is hard to imagine her ever stopping her work in the townships. They worry about her.
They also take inspiration from her. Bailey has influenced activists all over South Africa and beyond.
They also take inspiration from her. Bailey has influenced activists all over South Africa and beyond.
"Cora infuses everyone she meets with her passion to make the world a better place for all," says Kathy Raffray, from the organization Ban Animal Trading.
"She's a radiant beacon of hope in a very lost world."
Photo: A sick piglet living at the Randfontein municipal dump in Soweto.
Bailey acknowledges the effects of it all.
"I can't lie. Anxiety. Insomnia. I'm not always very together. It's hard to switch off and find peace."
Why does she do it?
"It was an accident," she says. 
"I saw it, and once I did, I couldn't turn away."